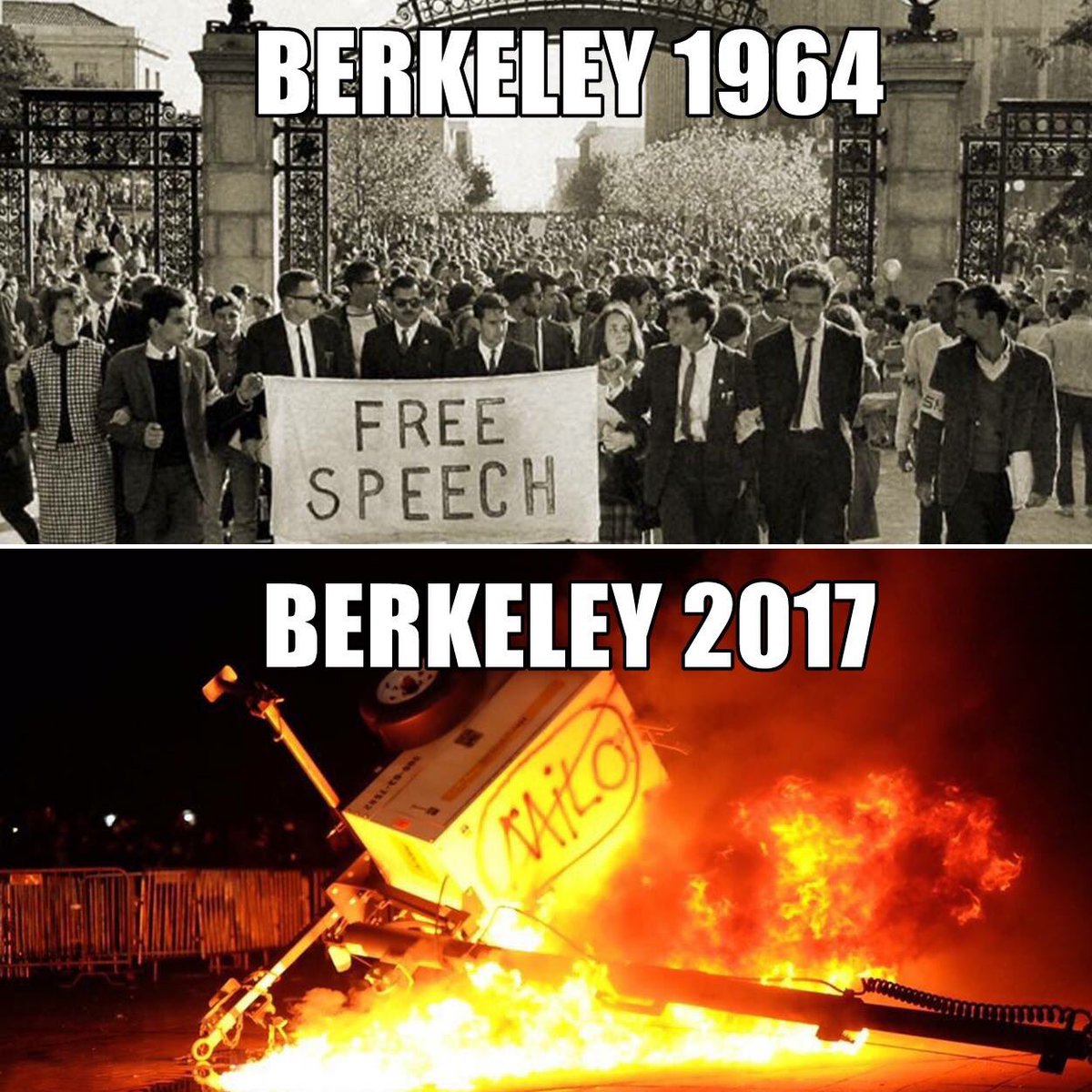 I'm sorry that I've been too busy to write much lately, but I plan to start posting more on the blog soon. In the meantime, I came across this great testimony by Richard Muller, who is professor of physics at Berkeley, on the value of free speech, which he wrote after Milo Yiannopoulos was prevented from giving a talk over there. He talks about the way students at Berkeley handled speakers they disagreed with in the 1960's and the contrast couldn't be more striking:
When I first arrived on the Berkeley Campus, I went to a talk by a neo-Nazi. It was 1964, three months before the "Free Speech Movement". I saw the announcement of the upcoming presentation, and I was curious—so I attended. About 250 students showed up. The speaker was introduced (in very neutral terms) and he spoke for about 45 minutes. The audience listened politely.

 

When he finished, questions were solicited. I noticed a pattern: the students were asking pointed questions, often involving logic or history, and they seemed to confound the speaker. It was almost a student competition: who could ask the most devastating question! The speaker was confused; he almost seemed to stutter; he was embarrassed. He had no good answers. Each succeeding student seemed to be able to ask even better questions that left the neo-Nazi helpless. He came across as an ignorant and utter fool.

 

I walked out absolutely delighted. I had seen free speech in action! It worked. Possibly everyone in the audience came away feeling as I did. Even supporters of the neo-Nazi must have been appalled at his ineptitude.

 

A few weeks later, a student was arrested and expelled for engaging in a political presentation at the corner of Bancroft and Telegraph, right at the edge of campus. I and a large number of students felt that the administration was undermining the free speech that we so much appreciated, and that I had seen so beautifully demonstrated at the neo-Nazi talk. Soon afterwards there was a peaceful sit-in at Sproul Hall. I was arrested; I spent the night in the Oakland jail (much more interesting than the Santa Rita camp where most arrestees went). Soon after that I described my experiences to a wonderful student I had just met, and we've now been happily married for over 50 years.

 

What happened in Berkeley last night? There was a speech scheduled by a controversial person (some might classify him as a neo-Nazi, but he was nothing compared to the actual neo-Nazi of 1964). Some students had organized a peaceful protest. Too bad; it would have been much better and more effective to attend his speech and hit him with embarrassing questions. A group of about 150 anarchists soon arrived, and, covered with black masks to hide their identities, and using the peaceful protesters as cover, began to attack the building violently. From my home a mile away I could hear much of it. I watched the terrible events on local news and video tweets.

 

I visited the area this morning. Somehow the image on TV had given an exaggerated image of what happened. Damage to property was minimal, with most having happened on one corner of the Student Union building.

 

Had the protesters used the 1964 tradition, attend-listen-embarrass, this could not have happened. It was the presence of thousands of innocent students that allowed the anarchists to denigrate free speech and leave the police virtually helpless to stop the violence.

 

I strongly urge the campus to revert to the old form of free speech, the kind I saw and loved in 1964, attend-listen-embarrass. It is effective and avoids the danger of a small group of extremists leveraging your disagreement with the speaker for their own violent ends.

 

Of course, the attend-listen-embarrass approach does have a downside too. If you listen to the speaker, he might actually influence the way you think about things. Personally, I love that aspect. Sometimes what I know about a speaker turns out to be wrong or exaggerated, and polite listening actually affects the way I think about the world. I'm never afraid to listen.
This is exactly how intelligent, civilized individuals respond to ideas they find abhorrent. If you want to know how illiberal, anti-intellectual little shits respond to ideas they find abhorrent, you can read about what happened at Middlebury College a few days ago, when Charles Murray tried to give a talk over there.