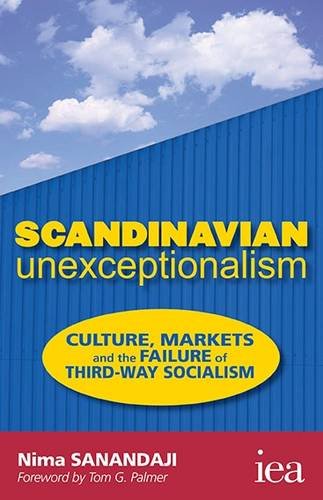 It's very common for progressives, especially in the US, to extoll the alleged virtues of left-wing socio-economic policies by presenting Scandinavian social democracies as models to emulate. But the argument based on the success of these countries is flawed for several reasons.
First, this argument focuses on the ways in which Scandinavian social democracies depart from the free market model, but they always ignore the way in which they don't. Scandinavian social democracies are not socialist by any stretch of the imagination and in a lot of respects are much closer to Anglo-Saxon economies that most people realize. In fact, they are in some respects closer to a free market economy than the US, which is anything but that.
A lot of what people say about Scandinavian social democracies is also completely outdated and ignores the failures of the socio-economic policies that were tried in those countries. In particular, Sweden's third-way socialism was actually a total disaster and was abandoned in favor of free market policies more than 20 years ago, but people often talk as if that never happened.
But more importantly, when they talk about the success of Scandinavian social-democracies, left-wing wonks always commit the fallacy of equating correlation with causation by assuming they succeed because of their socio-economic policies. Yet the evidence suggests that, not only are Scandinavian countries not successful because of those policies, but the evidence suggests that, in many ways, they succeed in spite of them.
A few months ago I read a short but excellent book by Nima Sanandaji that explains all that very well and even taught me a lot of things I didn't know. The book is available for free as a pdf on this webpage, which also includes a summary of the main points it makes.
If you're interested in socio-economic policy, I strong recommend that you read it, especially if you like social-democracy. It won't take you long and, even if it doesn't change your mind, it will definitely make you better informed. At the very least, you should read the summary (it will only take you a few minutes), which hopefully will convince you to read the whole thing.