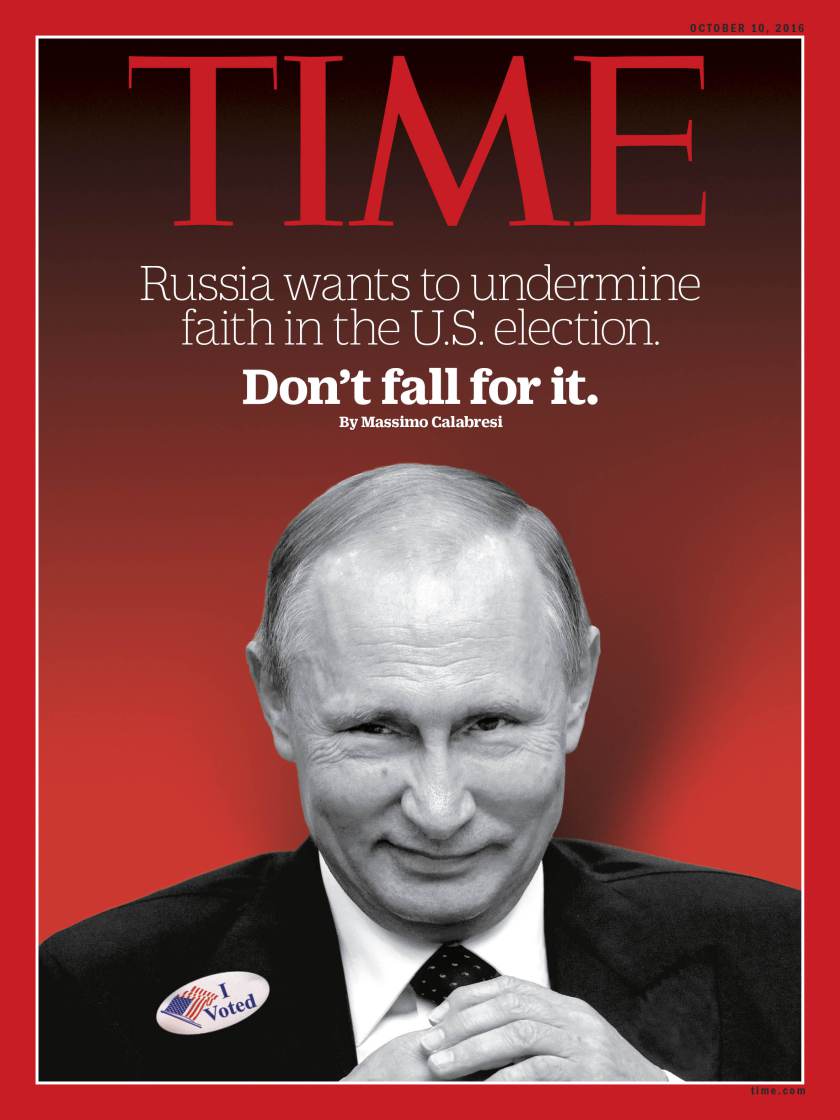 You have no doubt heard that, not content with interfering in the US presidential election, the Russians have also tried to undermine democracy in Europe. In particular, Moscow has been accused of trying to interfere in the upcoming German election, but also of being responsible for the hacking of Macron's campaign during the French presidential election. Reports that it had done so have been ubiquitous in the media this past year. What you probably didn't hear, however, is that both claims have been largely undermined. In the case of Germany, Ray McGovern wrote a very good piece about the results of the investigation conducted by German intelligence agencies, which have been completely ignored in the US media:
After a multi-month, politically charged investigation, German intelligence agencies could find no good evidence of Moscow-directed cyber-attacks or a disinformation campaign aimed at subverting the democratic process in Germany. Undaunted, Chancellor Angela Merkel has commissioned a new investigation.

Last year, Berlin's two main intelligence agencies, the BND and BfV (counterparts of the CIA and FBI) launched a joint investigation to substantiate allegations that Russia was meddling in German political affairs and attempting to shape the outcome of Germany's elections next September.

Like the vast majority of Americans malnourished on "mainstream media," most Germans have been led to believe that, by hacking and "propaganda," the Kremlin interfered in the recent U.S. election and helped Donald Trump become president.

German intelligence agencies rarely bite the hand that feeds them and realize that the most bountiful part of the trough is at the CIA station in Berlin with ultimate guidance coming from CIA headquarters in Langley, Virginia. But this time, in an unusual departure from past practice, analysts at the BND and BfV decided to act like responsible adults.

Whereas former CIA Director John Brennan prevailed on his analysts to resort to anemic, evidence-light reasoning "assessing" that Russia tried to tip the U.S. election to Donald Trump, Berlin's intelligence agencies found the evidence lacking and have now completed their investigation.

…

So, what do powerful officials do when the bureaucracy comes up with "incorrect" conclusions? They send the analysts and investigators back to work until they come up with "correct" answers. This turned out to be no exception. Absent evidence of hacking directed by the Kremlin, the Germans now have opted for an approach by which information can be fudged more easily.

According to the Sueddeutsche, "Chancellor Merkel's office has now ordered a new inquiry. Notably, a 'psychological operations group' jointly run by the BND and BfV will specifically look at Russian news agencies' coverage in Germany." We can expect that any articles that don't portray Vladimir Putin in a devil's costume will be judged "Russian propaganda."
This was reported in the German press last February, but the notion that Russia is trying to interfere in Germany's upcoming election is still reported as established fact by journalists and pundits in the US, the same people who claim to be the enemies of alternative facts.
Similarly, the claim that Russia was responsible for hacking Macron's campaign during the recent French presidential election was also widely reported, but this interview of Guillaume Poupard, the head of the French cybersecurity agency, with Associated Press was totally ignored by the media:
Contrary to [Admiral Michael Rogers, the head of the NSA], who said the U.S. warned France of "Russian activity" before Macron's win, Poupard didn't point the finger at Russia. He told the AP that ANSSI's investigation found no trace behind the Macron hack of the notorious hacking group APT28 — identified by the U.S. government as a Russian intelligence outfit and blamed for hacks of the U.S. election campaign, anti-doping agencies and other targets. The group also is known by other names, including "Fancy Bear."

Poupard described the Macron campaign hack as "not very technological" and said: "The attack was so generic and simple that it could have been practically anyone."

Without ruling out the possibility that a state might have been involved, he said the attack's simplicity "means that we can imagine that it was a person who did this alone. They could be in any country."

"It really could be anyone. It could even be an isolated individual," he said.

Poupard contrasted the "Macron Leaks" hack with another far more sophisticated attack that took French broadcaster TV5 Monde off the air in 2015. There, "very specific tools were used to destroy the equipment" in the attack that "resembles a lot what we call collectively APT28," he said.

"To say 'Macron Leaks' was APT28, I'm absolutely incapable today of doing that," he said. "I have absolutely no element to say whether it is true or false."

Rogers, the NSA director, said in his Senate Armed Services hearing that U.S. authorities gave their French counterparts "a heads-up" before the Macron documents leaked that: "'We are watching the Russians. We are seeing them penetrate some of your infrastructure. Here is what we have seen. What can we do to try to assist?'"

Poupard said Rogers' comments left him perplexed and that the French had long been on alert about potential threats to their presidential election.

"Why did Admiral Rogers say that, like that, at that time? It really surprised me. It really surprised my European allies. And to be totally frank, when I spoke about it to my NSA counterparts and asked why did he say that, they didn't really know how to reply either," he said. "Perhaps he went further than what he really wanted to say."
If you ask me, those are some very good questions, but for some reason the US media doesn't seem very interested in them. But don't get me wrong, I'm sure it's a coincidence that journalists didn't report this information, it's not as if they were biased against Russia or anything. Not at all, the US media is a model of independence, competence and integrity, it would never engage in dishonest reporting.